Do you need planning permission to install solar panels?
Page last updated 04 March 2013
Like many other large-scale building projects, installing solar panels is subject to a number of regulations. Before starting your project, take a look at this short guide on the regulations for fitting solar PV.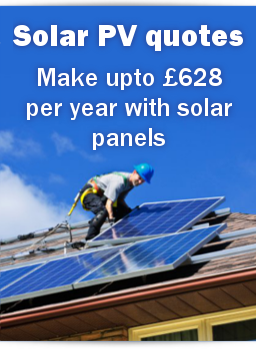 Practical advice
On top of official solar PV regulations, it's important to consider some of the practicalities of having solar panels fitted. The orientation and tilt of the proposed installation site is crucial because solar systems are most efficient when fitted to a south-facing roof with a tilt of 30 degrees. You also need between 10 and 25 square metres of roof space, although the shape of the roof is not important.
Shade over solar panels can greatly affect the overall efficiency of a solar PV system. As such, it's important to clear the area of any overhanging branches and to make sure panels aren't fitted in the shadow of a chimney or television aerial.
Permitted developments
In the majority of cases, installing solar PV will not require planning permission, as solar panels are classified as "Permitted Developments" (PD) under the relevant legislation. To avoid the need for permission, panels must:
Not be installed above the highest point of the property (not including chimneys)
Be fitted in a way that least affects the external appearance of the property and the surrounding area
Not protrude more than 200mm from the surface of your roof
An inspector from your local Building Control Office may want to visit your property before installation begins. Furthermore, when you have stopped using your panels to generate electricity, they should be removed as soon as possible.
Planning permission
While most solar PV installations will be classified as a PD, you will need to seek planning permission from your local authority if your solar panels:
Do not meet the PD requirements set out above
Are set to be installed on a listed building
Are set to be installed on a world heritage site
Are standalone and you plan to install multiple units (the first standalone unit is a PD)
In Scotland, there are additional rules that require planning permission if solar panels are due to be installed on the exterior walls of a block of flats or if any panels will sit within one metre of the edge of a flat roof. For more information, contact your local planning office.
Building Regulations
Regardless of whether planning permission is necessary or not, solar panel installations are normally subject to standard building regulations. You need to check that your roof is capable of supporting the extra weight of solar panels and, where necessary, carry out any alterations to make it safe. All other standard health and safety measures must be adhered to - you may have to prove to your local planning office that your property fully satisfies these requirements.
The best way to avoid any problems with building regulations is to use a certified installation company to fit your solar panels - you can find a full list of certified installers and suppliers on the Microgeneration Certification Scheme website.